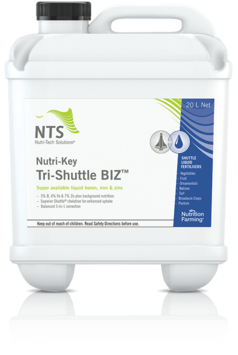 ProductDrop
Nutri-Key Tri-Shuttle BIZ™
Keep it simple with three-in-one correction.
The Shuttle® system represents a dynamic new approach to nutrient delivery. Trace element deficiencies often occur in clusters. Nutri-Key Tri-Shuttle BIZ™ is designed to address shortages of the trio boron, iron and zinc.
Benefits
High levels of boron, iron and zinc.
Chelates and delivers more nutrition than previously possible.
Balanced, three-in-one correction.
Boron is stabilised with the humate component.
Contains "background nutrients" to avoid the problems that can occur when the correction of one shortage triggers another shortage due to the antagonistic effect of certain elements.
---
We Also Recommend
---