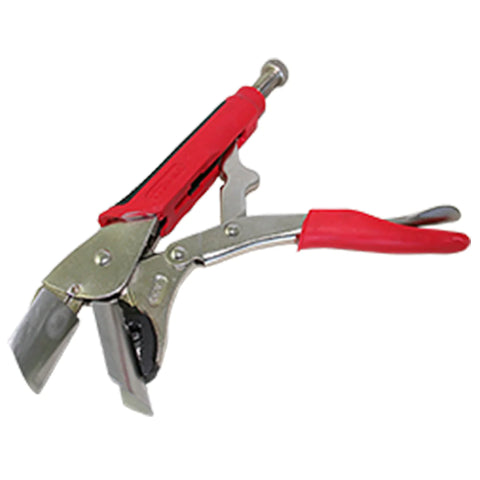 ProductDrop
In-field monitoring is a critically important component of the biological approach.
Proactive plant management involves precision nutrition to achieve the plant resilience that reduces the need for chemical intervention. Refractometers, sap pH meters, nitrate and potassium meters are tools that monitor the sap of the plant to determine nutrient requirements. However, the first step in this monitoring process is the successful extraction of the sap from the leaf. This device is manufactured in the NTS workshop and it has proven very popular amongst growers already using the technology. These adapted vice grips are of particular benefit as the extractor is more durable than a basic garlic crusher.
Benefits
Durable construction.
Rapid sap extraction
Affordable
The NTS Sap Extractor can be used with petiole or whole leaf samples. Uses a manual hinged action to squeeze plant material to extract any available sap. The unique positioning of the main pressure point is the key to the enhanced durability of this tool. OPERATION GUIDE 1. Always wear clean gloves when collecting and processing the sample to avoid contamination. 2. Once the sample is in place, crush to bruise it only, then with a clean plastic tool or similar, raise and turn the sample. This will allow for greater sap extraction. It may be necessary to repeat the bruising and turning process 3 – 4 times. 3. When the sample has been sufficiently bruised, apply pressure to express the sap. Note: Avoid forcing leaf material through the holes, as this will restrict good sap flow
Please note : although this unit is considered heavy duty compared to standard garlic crushers, excessive force can still cause breakage. Unfortunately we are unable to replace broken sap extractors. – The plastic head cleaning tool can be used to clear holes, but in some cases it may be necessary to use a toothbrush to thoroughly clean the unit. – If using sensitive ion meters it is advisable to wash the tool with distilled water between samples. WHICH EXTRACTOR DO I USE? NTS Sap Extractor – Leafy greens and vegetables with high moisture content. NTS Advanced Sap Extractor – Suitable for most pastures and broadacre crops. Also suitable for small crops such as strawberries, potatoes etc. NTS High-Pressure Sap Extractor – Ideal for most tree crops, e.g. macadamia, citrus and olive.
---
We Also Recommend
---